This Is Why You Should Visit Switzerland
May 1, 2020
Switzerland just may be the most beautiful country in Europe, especially in summer. There's something about the way the mountains still glisten with snow even into the sunniest of summer days, the turquoise lakes — all of which are amongst the cleanest in the world — the fields of alpine flowers… it just goes on and on.
Whether you opt for a luxury rental in Switzerland or try to experience the country cheaply by staying in hostels (to which I say good luck — I paid a crippling $40 for a bunk in a hostel, an experience I hope to never repeat), the best part is that many of the most stunning views in Switzerland are completely free!
I used an 8-day Swiss Travel Pass to explore some of the best places to visit in Switzerland, all by train. I've compiled a list of some of the most beautiful places in Switzerland to help you plan the best stops for sightseeing in Switzerland by train. Rather than just give the usual Switzerland tourist spots, I've tried to show some more off the beaten path Switzerland highlights, plus popular cities like Zürich and Geneva.
Using my Swiss Travel Pass, I was able to take the Schynige Platte belle époque railway, the steamboat across Lake Lucerne, the steepest cogwheel railway in the world up to Mt. Pilatus, and handfuls of scenic cable cars – all included for free in the price of my rail pass, and a discount on the Gornergrat in Zermatt to see the gorgeous Matterhorn up close. Check out pricing & details about the Swiss Travel Pass here.
Swiss Travel System offers a variety of different travel passes for different budgets and trip durations. Starting at 205 euros (around $229 USD) for a 3 consecutive day 2nd class pass, there are also 4, 8, and 15 day passes, offering more value the longer you stay. Kids under 16 travel for free with their parent or guardian, and youth aged 16-25 get to ride at a significant discount.
There are also flex tickets where you can travel 3, 4, 8, or 15 days of your choice within a one-month period if you're more into slow travel. To see a full breakdown of ticket choices and prices, check out options here.
This guide will cover 9 of the absolute best places in Switzerland, and if you want to see how to organize all these places into a logical itinerary, I've done the work for you and created a 10-day Switzerland itinerary that incorporates as many of the places on this list as I could while still not traveling at a breakneck pace so you can still enjoy your vacation. I include recommendations as well for what to do if you have more or fewer days.
And if the stress of itinerary planning is too much, there is always the option of a guided tour — which can actually be a good deal in pricy Switzerland, where hotel rooms, meals, and transport alone can easily destroy your budget. Click to compare prices and itineraries on the best guided tours in Switzerland.
Wondering where to go in Switzerland? I've got you covered below, with 9 recommended stops for your Switzerland itinerary plus accommodation and activity recommendations. Check out the video below for a few highlights and a quick preview of the 9 spots I've chosen to highlight in Switzerland.
Best Places to Visit in Switzerland
Montreux and Lac Leman

Montreux is a normally quiet town on Lac Leman near Geneva that pops off for two weeks each year when the Jazz Festival (and 200,000+ visitors!) come to town.
Try to line up your time in Montreux with the Jazz Festival, when tons of musical acts (not just jazz) come to town and street food is available all up and down the main lakeside promenade.
Or you can grab some food from the local Coop, take advantage of the open container laws, and have a lakeside picnic while buskers entertain you before the main acts at night.
What to Do in Montreux
Montreux is at its best during its yearly Jazz Fest. But your timing doesn't line up, there's still plenty to do in Montreux to experience one of the most beautiful places in Switzerland to its fullest.
Montreux is home to the stunning island Chateau de Chillon, a castle that dates back to the 11th century and which has been marvelously kept up over the centuries.
It's certainly one of the most scenic places in Switzerland with stunning lake and mountain views framing the turrets of the castle. Entrance is 12.50  (about 13) but the entrance fee is included with your Swiss Travel Pass if you have one – a great tool for sightseeing in Switzerland!
If you aren't buying a Swiss Travel Pass, but paying for each train individually without a pass, you can pre-book your castle entrance ticket here and skip the line.
Of course, the Lake Promenade (which you can take to walk to the castle) is absolutely stunning and definitely worth dedicating some time to enjoying.
The nearby Chaplin's World is also a popular Montreux attraction. Charlie Chaplin, like many other celebrities, spent many years of his life enjoying Montreux and as a result you can enjoy a museum in his former home.
Day Trips and Tours from Montreux
Glacier 3000: A tour to the Glacier 3000 is one of the most loved day trips from Montreux. You start in the cute mountain village of Les Diablerets, where you can take a cable car up to a glacier. At the glacier, there is a cool suspension bridge that connects two mountains, giving you impressive views of 20+ peaks over 4,000 meters — including the Matterhorn on a clear day. You can see snow even in the middle of summer here!
Rochers de Naye: If time (and weather) permits, you can also take the scenic train up to Rochers de Naye for an aerial lake view. Normally 70 CHF, if you have a Swiss Travel Pass you can make the journey for a much better 26 CHF roundtrip, as the first leg of the trip is included and you get a 50% discount on the second part of the trip.
Lausanne: A side trip to nearby Lausanne is a popular option for travelers staying in Montreux. Lausanne is famous for its excellent Olympic museum, the historic Old Town centered around Place de la Palud, and its gorgeous traditional architecture. You can take the train to Lausanne in just a few minutes from Montreux – it's quite fast and inexpensive by Swiss standards.
Where to Stay in Montreux
Budget: There's only one hostel in town that I'm aware of, and that's where I stayed (I was on a tight budget during my entire time in Switzerland). I stayed at the Montreux Youthhostel. It includes breakfast– an excellent value in pricy Switzerland! Keep in mind their late 4 PM check in, which is common throughout Switzerland. Check rates and current availability here.
Mid-Range: If you're on a bit of a budget, Le Coucou Hotel has excellent prices, a breathtaking view, and a well-reviewed restaurant. It is a bit from Montreux proper, though it is close to a different train station (Haut-de-Caux). Check lowest rates and availability here.
Luxury: A favorite of celebrities like the late Freddie Mercury, it's not surprising that Montreux offers no shortage of luxury options. The best balance of luxury to price ration is Fairmont Le Montreux Palace. I mean, just look at that building façade — it's basically the architectural equivalent of the heart-eyes emoji. Check lowest rates and availability here.
Geneva
Geneva is one of the most common arrival airports for travelers visiting Switzerland, so there's a good chance that you'll be at the very least transiting via Geneva at some point during your Switzerland itinerary. Located right on Lac Leman, despite its large size Geneva is still one of the most beautiful places in Switzerland.
Geneva is also great for chocolate lovers – you'll find chocolatiers all over the city, as well as plenty of tours themed around sampling the best Swiss chocolate you can find. Besides that, Geneva is known for its museums, its delicious fondue, and its stunning lake and mountain views. The Jet d'Eau pictured below is one of Geneva's most famous landmarks and is one of the tallest fountains in the world.
Things to Do in Geneva
The best way to explore Geneva is by foot. Walk around the historic city and marvel at all the beautiful buildings and all the watches you'll never be able to afford. Definitely stop into some of the different chocolate shops and sample some of Switzerland's finest!
A common must-see on Geneva itineraries is the Jet D'Eau, a massive water fountain shooting water up a massive 140 meters in the air on Lake Geneva — it's especially beautiful at night when it's all lit up. The Palace of Nations, home to a huge branch of the United Nations, is also quite popular to visit when in Geneva.
Geneva is also famous for having a ton of unique museums. The Musée Ariana is great for glass and ceramics lovers, whereas those interested in history will appreciate the Red Cross and Red Crescent Museum.  I recommend using the Geneva Pass to save money if you plan on seeing a few museums and attractions as the savings will quickly add up.
Aside from museums, don't miss a steamboat ride on Lake Geneva, or visiting some of the vineyards of Lavaux (a UNESCO World Heritage Site) nearby!
Day Trips and Tours from Geneva
Gruyeres: If you want the whole Swiss bucket list in one go — trains,  mountains, chocolate, and cheese — you can't miss a full-day tour to Gruyères – yes, that Gruyères!
You'll learn about chocolate making, meet Swiss cows, see how cheese is made in Switzerland, indulge in fondue, and get to ride the Golden Express, one of Switzerland's most famous trains.
Want the full experience with a ride on the Golden Express? Be sure to book in advance – it's #1 on many people's Swiss bucket lists. Book in advance here to not miss your spot!
Money-Saving Tip: For a cheaper option that doesn't include the train, you can book just a tour of the chocolate and cheese factories here.
Glacier 3000: This is far and away the most popular day trip from Geneva! Similar to the tour from Montreux, the tour takes you to the picturesque village of Les Diablerets, then sweeps you up a 3,000-meter high glacier where you can embark on the Peak Walk, a stunning suspension bridge that brings together two peaks, over 4,000 meters high.
If traveling in summer, there's also a toboggan run which kids (and the young at heart!) will adore! It also includes a stop in Montreux on the way back.
Steamboat on Lac Léman: A traditional steamboat ride on Lake Geneva (also called Lac Léman) is one of the most popular things to do in Geneva.
You can combine it with a city tour or if you have the Swiss Travel Pass it should be included on your ticket.
France! If you're keen to visit a bit of France, Geneva is also extremely close to Chamonix which is at the foot of Mont Blanc as well as the fairytale town of Annecy. Both can be done as day trips from Geneva. There are very affordable half-day tours to Annecy (pictured below!) and slightly more expensive full-day trips to Chamonix as well.
Lavaux: Love wine tasting? You'll love Swiss wines and these UNESCO-listed vineyards. The Swiss like to say that Swiss wine is too delicious to export, and they drink it all at home in Switzerland!
I have to agree — Swiss wines are especially tasty, similar to German or Austrian wines but with a terroir all of their own. This affordable tour visits it with a group, or if you're traveling with a partner, you can book this romantic private tour for two.
Where to Stay in Geneva
Budget: I flew into in Geneva and made my way over to Montreux for the night, so I haven't stayed in any Geneva hostels personally. The best-reviewed hostel that several of my friends have stayed in is Geneva Hostel, which is no frills but quite affordable for pricy Switzerland. It has spacious lockers, friendly staff, breakfast included, and best of all, it comes with a free travel card which will definitely help you save some money in pricy Geneva. Check hostel availability and prices here.
Mid-range: Geneva has a decent selection of mid-range offerings. I'm a big fan of ibis hotels because they're always clean, reliable, private, and inexpensive. They don't have the most personality, but sometimes you just want a clean, private room to rest your head in. There are several branches of ibis in Geneva, but ibis budget Petit-Lancy is the most affordable. Like Geneva Hostel, it also includes a free travel card, which means that even though you're located a bit outside the center you can get into the heart of the city easily without spending a dime. Check lowest prices and availability here.
Luxury: The Mövenpick is one of my most trusted luxury hotel brands, and the one in Geneva is well-reviewed and not absurdly expensive (for a luxury option in Switzerland, that is) Check best prices and availability here. Hotel de la Cigogne is an excellent 5* option, but it's priced to match. Still, it may be worth it for the central location, luxury amenities, and artist-inspired décor. Check availability and prices online.
Lauterbrunnen Valley and surrounding towns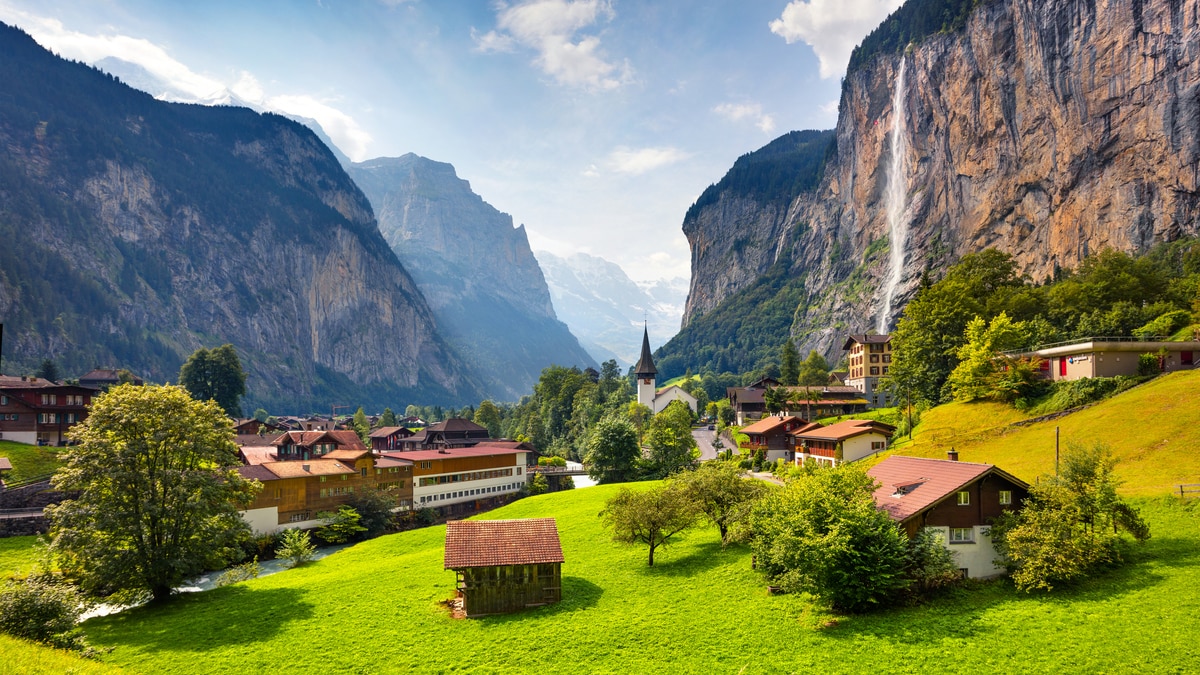 Lauterbrunnen is an adorable, typically Swiss town nestled in a mountain valley famed for being home to 72 waterfalls — two of which are prominently but casually hanging out in the center of town like it's no big deal. It's definitely one of the top must-visit places in Switzerland with super traditional architecture and flower boxes.
Just 20 minutes from Interlaken, Lauterbrunnen is an oasis of calm with tons of opportunities for hiking if you're feeling tame and all sorts of adventure activities if you're keen to get your adrenaline pumping – there's tons of things to do in Switzerland in the summer and Lauterbrunnen is one of the best bases to experience it from! It's also one of the more affordable towns in Switzerland, with plenty of affordable accommodations choices, so it's a popular choice for those backpacking Switzerland.
Things to Do in Lauterbrunnen
If you're a fan of waterfalls, you'll be in heaven here: Lauterbrunnen is the best place to go in Switzerland for waterfall chasing, as there are some 72 of them in Lauterbrunnen Valley alone.
Be sure to take the cable car and scenic train up to Mürren via Winteregg for stunning mountain and valley views — complete with lots of Swiss cows (and cowbells!). Afterward, you can either hike down to Gimmelwald or take a cable car. When in Gimmelwald be sure to check out the Honesty Shop — Europe's first village store based entirely on trust.
No shopkeepers or cameras — just trust, and it works perfectly. For this jaded New Yorker, it was actually a bit of an emotional experience to see this shop in action.
Finally, be sure to check out the insanely powerful Trümmelbach Falls in between Lauterbrunnen and Stechelberg. It's a series of 10 glacial waterfalls which tumble INSIDE of a mountain, which has been carved out by both nature and man so you can see the insane power of the melting glacial water at work.
This is no dainty, Instagrammable waterfall — it's sheer force and power, and an absolute sight to behold.
If you're keen to get your adrenaline pumping, there are several adventurous things you can do in Lauterbrunnen. Common options include helicopter flights, paragliding, and skydiving, though of course — none of these activities come cheap! If you're on a budget, stick to hikes and exploring the cable cars and scenic trains in the region.
There are also more expensive scenic trains such as to Jungfraujoch (the "Top of Europe") and Schilthorn (where James Bond was filmed) if you're keen to get some height without the adrenaline rush, but it won't come cheap.
Where to Stay in Lauterbrunnen
Budget: There are plenty of hostels in Lauterbrunnen. Even though Switzerland is expensive, I think Lauterbrunnen is one of the best towns to visit in Switzerland if you're on a budget. I stayed at Schutzenbach Backpackers and it was the cheapest hostel I stayed at during my entire time in Switzerland.
It had an amazing location and everything was comfortable, but there were some weird quirks (like you had to pay for hot water by the minute and pay for using the electric burners!) that I found annoying. It's a short walk out of town (20 minutes) but you can also take a bus. Check all hostel options here.
Mid-range: If you have a medium budget, Hotel Staubbach is your best bet. It has great waterfall views and a super convenient location. It's cozy, but not ultra-luxurious. You could also stay in Mürren, Gimmelwald, or one of the other cute mountain towns in the area! Check lowest prices and availability here.
Luxury: For those with money to spare, Hotel Silberhorn is one of the nicest hotels in town. They have a beautiful sun terrace with an amazing panoramic view of the Jungfrau mountains and an Alpine-style restaurant. Check prices, reviews, and availability here.